Maths IB 1.5.1 Indices and logarithms – A & I SL
£1.50
Share
Description
Indices and logarithms – IB Maths Applications and interpretation – Standard level – Calculator Questions.
Booklet including 12 Questions for revision on the topic Laws of indices and introduction to logarithms based on the Applications and Interpretations Maths IB Standard level Syllabus, it is attached a booklet with all the answers, to help students to revise focused on one topic.
 You will get the following files:
PDF Files
Be sure that you have an application to open this file type before purchasing.
Preview
Preview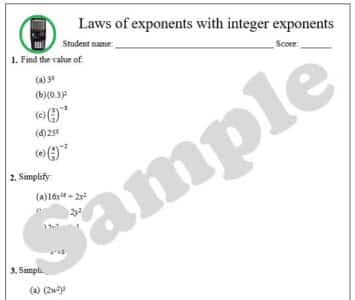 Related products
Topic 3.1: Basic concepts of functions – IGCSE International Maths. Calculator Past paper questions for revision on the topic of Basic concepts of Functions. 6 Pages […]

£1.50

Topic 1: Numbers – IGCSE International Maths Non-Calculator Past paper questions for revision on the topic of Numbers. 14 Pages of questions, including a booklet with […]

£3.50

Topic 11.1: One variable statistics – IGCSE International Maths. Calculator Past paper questions for revision on the topic of One variable Statistics. 14 Pages of questions […]

£2.00