Maths IGCSE Topic 06.02: Transformations – (0607)
£1.50
Share
Description
Topic 6.2: Transformations – IGCSE International Maths.
Calculator Past paper questions for revision on the topic of Transformations. 7 Pages of questions from calculator papers, including a booklet with all the answers, to help students to revise focused on one topic, based on the 0607 International Maths IGCSE Syllabus.
 You will get the following files:
PDF Files
Be sure that you have an application to open this file type before purchasing.
Preview
Preview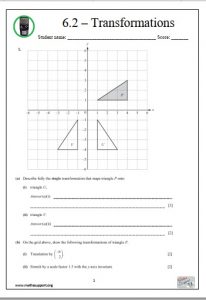 Related products
Topic 2.13: Direct and inverse variation – IGCSE International Maths. Calculator Past paper questions for revision on the topic of Direct and Inverse variation. 2 Pages […]

£0.00

Topic 10: Probability – IGCSE International Maths. Calculator Past paper questions for revision on the topic of Probability. 8 Pages of questions from calculator papers, including […]

£2.00

Topic 1.8: Ratio and Percentages – IGCSE International Maths. Calculator Past paper questions for revision on the topic of Ratio and percentages. 6 Pages of questions […]

£3.50