Maths Bingo – Square numbers
£0.00
Description
Maths Bingo – Square numbers
Is a good Maths game to revise on the topic Square numbers, it has 30 questions. You may also use the file as a template to make new topics games. Thanks to Mr Richard King for the template.
Instructions are included.
You will get:
1 XLSM (263KB) file
1 PDF (92KB) files
XLSM and PDF files
Be sure that you have an application to open this file type before purchasing.
Preview
Preview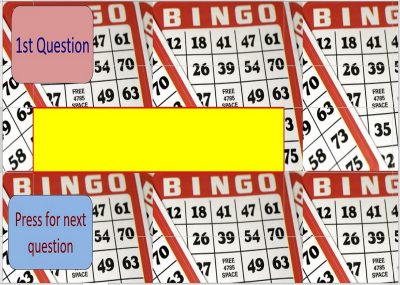 Related products
Topic 6.1: Vectors – IGCSE International Maths. Calculator Past paper questions for revision on the topic of Vectors. 4 Pages of questions from calculator papers, including […]

£

0.00

Topic 4 Coordinate Geometry – IGCSE International Maths. Calculator Past paper questions for revision on the topic of Coordinate geometry. 4 Pages of questions from calculator […]

£

0.00

Introduction to Algebra: Birthday game – KS3 Maths Excellent Maths starter activity to introduce algebra to students. Engaging activity that students love.

£

0.00